Calming Organic Hemp Seed Oil Soft Chew Supplements for Dogs
---
Nulo's Calming Organic Hemp Seed Oil Soft Chews can help calm and relax your pup for thunderstorms, car rides, vet trips, fireworks, and more.  Think of it as a tasty piece of Zen.
Scientifically-formulated with a variety of bioactive ingredients featuring Organic Hemp Seed Oil, Organic Chamomile, and Ashwagandha Root.  In addition, these soft chews also contain L-Theanine, L-Tryptophan and Vitamin B1.  Together, these advanced ingredients help support relaxation, calmness, and composure for your best friend.
Key Benefits:
Temporarily calms a dog's demeanor
Helps reduce excessive barking and/or chewing
Helps reduce anxiety and stress
Use as a training tool to help your dog focus
Helps improve separation anxiety

A healthy alternative to CBD oil and other CBD products

Helps promote wellness in dogs of all ages: Puppy, Adult & Senior
AVAILABLE IN 9.5 OZ (270 g) 90CT JARS

Supplements are available at your local Independent Pet Specialty store, Chewy and Amazon. *Please call your local store for availability of products.
---
About supplements
Nulo soft chew supplements are designed to enhance your dog's health and wellness beyond what core nutrition provides. With more than 40 scientifically-supported active ingredients and five solution-focused formulas including Calming, Immune, Mobility, Omega, and Probiotic, our soft chews are suitable for puppies, adults, and senior dogs. But supplements are only as good as what's inside them. All Nulo Supplements are part of our NASC Quality Program to meet the highest standards of safety.
*Testimonials are for informational purposes only. The information is not a substitute for expert veterinary care. Testimonials are written by actual customers and represent their own observations. These observations are not guaranteed, are not medically substantiated, and may not be typical for other pets.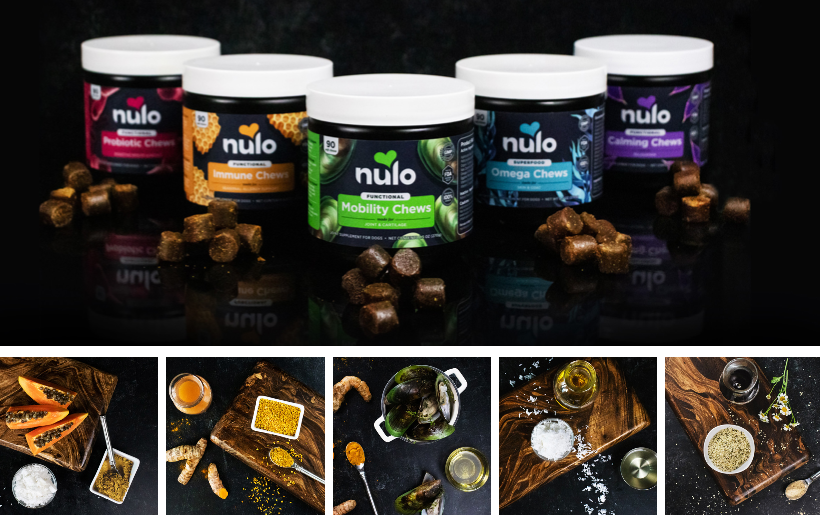 Key Benefits
Ingredients & Analysis
Feeding Guidelines
FAQs
Organic Hemp Seed Oil
is a balanced source of omega-3 and omega-6 fatty acids that supports healthy brain function
Organic Chamomile
is a calming herb that may help sooth stressed and hypersensitive behavior
L-Theanine and L-Tryptophan
promote relaxation and balanced behavior without causing drowsiness.
Ashwagandha Root
is a natural adaptogen that supports a dog's ability to cope with normal stress
active ingredients per 2 chews (6 g)
Organic Hemp Seed Oil...........................................250 mg
Organic Chamomile...................................................80 mg
L-Tryptophan................................................................50 mg
L-Theanine......................................................................30 mg
Ashwagandha Root (Withania somnifera).........30 mg
Magnesium Gluconate.................................................18 mg
Vitamin B1 (Thiamine).................................................10 mg

inactive ingredients
ascorbic acid (as preservative), brewers dried yeast, chickpea flour, dried
beef, gelatin, natural flavor, organic honey, safflower oil, sunflower lecithin,
vegetable glycerin, water
Will this work for my dog?
We're very confident in the benefits of our soft chew supplements after consistent use with the recommended daily amounts.
Do Nulo's Calming chews with organic hemp seed oil contain THC?
No, the organic hemp seed oil that we use does not contain any cannabinoids like CBD or THC, nor psychoactives.
Are Nulo's supplements safe for puppies?
Yes, they are suitable for puppies, adults, and senior dogs. For very young puppies (less than 12 weeks old), your veterinarian prior to use.
What if my dog doesn't like the chews?
This almost never happens! For picky pups, you can give during or after mealtime. If that doesn't work, let us know about the issue and we'll help to make it right.
Can I "mix & match" different soft chews to address multiple issues in my pet?
Yes, our supplements are highly compatible with each other because they're made from safe, natural ingredients. If you choose to combine chews, we recommend slowly introducing them at half of the suggested dose for each to start, then gradually increase to the recommended amount.
Where is the expiration date on the product?
The expiration date is stamped on the bottom of the jar.
What is the shelf-life of Nulo's functional soft chews?
There's a 2-year shelf-life in their factory-sealed jars. Once the jars have been opened, we recommend using them within 2 months for optimal potency.